Thu, 10 September 2015
Terminus Podcast -- Mini Episode 1: Turn of the Earth: Ten Years of New Who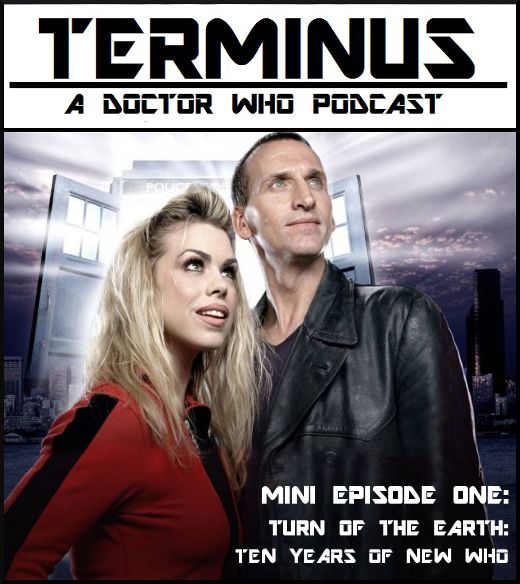 IT'S ALIVE! Galvanizing lightning has struck, the stars have aligned, the hecatomb of Daleks sacrificed, and despite recording with a bit of a scratchy-and-sore throat, a new episode is now in the can! It's debatable if it is a 'proper' episode, I suppose, as the format is a bit different from usual, so I've decided to just call it a 'mini-episode' (though admittedly, its not very short or anything). I'm just now trying to get back on the horse and rework the recording schedule going forward, since so much has happened between this episode and the last one. SO MUCH!
Either way, I'm back now, giving this another go, with a chat about the 10th Anniversary of the new series and a look back at the episode that started it all, 'Rose'. I also have some new station idents from Andrew Cartmel and Sylvester McCoy to debut as a little bonus, because, well, they make me super-happy!
Anyway, many, many apologies for the extraordinarily long wait, but also many thank-yous to those who've been listening all this time and cheering me on to return to my podcast again. Join me on this episode as I chat about ten years of the new series of Doctor Who and also the episode Rose, the latter of which I'm not very nice about, to be honest, so you've been warned!
And, as always, glad to have you aboard. Enjoy the ride!
Mini Episode 1 – Turn of the Earth: Ten Years of New Who
Table of Contents
0:00:00 - Opening and Welcome
0:04:19 - Station Idents from Sylvester McCoy & Andrew Cartmel
0:06:44 - Reminiscing about Ten Years of New!Who
0:26:27 - Thoughts From Rewatching the Episode of 'Rose'
0:39:58 - Coming Soon on the Next Episode! Plus Goodbye, Thanks, and Outro!
Links:
+ Email: terminusdwpodcast@gmail.com
+ Facebook: https://www.facebook.com/groups/terminusdwpodcast/ (the social group) or Like Us at: https://www.facebook.com/TerminusDWPodcast
+ Twitter: https://twitter.com/TerminusCast
+ Tumblr: http://terminusdwpodcast.tumblr.com
+ Music Theme: 'Violin Doctor Who Theme' by ViolinistBAKA (on YouTube)
Fun Links Related to the Show:
+ 'A Decade of Doctor' fanvid by John Smith
Notes:
Opening audio clips from the Fifth Doctor serial 'Terminus' and the Tenth Doctor serial 'The Shakespeare Code', copyright BBC. The female robot voice was from '2nd Speech Center' text-to-voice software. 'Doctor Who' theme was by ViolinistBAKA, link provided above.
Comments[2]
---
Adding comments is not available at this time.